Graffiti Murals:
a unique art piece on your facade
Do you recognize this situation? Do you ever walk through the city and find your attention being drawn towards an overwhelmingly colorful graffiti mural. What a difference compared to all those boring concrete walls that surround it. Imagine it is your wall on which this artwork was created! A graffiti mural catches attention and is a valuable addition to a street's image! Research has shown that graffiti contributes to a more positive living environment. For example, it will cause more traction to local businesses and residents will experience living in their neighborhoods as more pleasant. Would you also like a special work of art on the wall of your real estate? Mural Kings would love to start working on it for you. We take care of your projects from A to Z.
Winner of the Dutch Street Art Award
Mural Kings is an international street-art network. Amsterdam, Jersey, Abu-Dhabi, Rio de Janeiro, Alfamén, Oostende, Montevideo: You can find our art everywhere. Our network is made up out of artists from all over the world. They all have the same goals: to make the world more colorful and optimize the appearance of living- and working spaces. With this Graffiti Mural, the artist duo 'Karski and Beyond' won the Dutch Street Award in 2018. A fantastic milestone! Following this our artist duo 'Bier en Brood' (Beer and Bread) won the Dutch Street Art Award in 2018. A wonderful acknowledgment of the quality of Mural Kings' artists.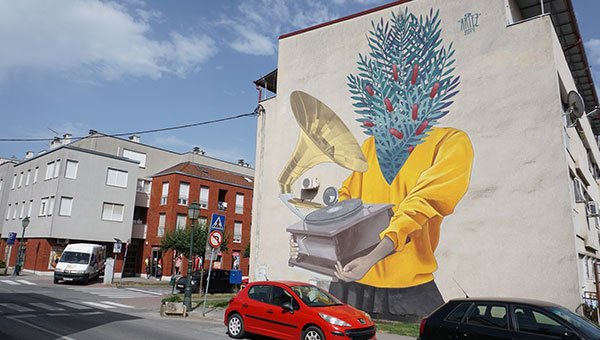 Contact us ▸
Graffiti Mural
Because we are made up out of so many different artists, we have a wide range of diversity of styles. From lifelike to abstract: everything is possible with regards to your graffiti mural. This way we will always find the perfect match between artist and customer.
How do we work?
Not only is our method of work marked by creativity and endless passion for the art but also by excellent craftsmanship. Besides, we love clear and direct communication: you will only get one point of contact. How do we proceed when we are asked to create your graffiti mural? We will tell you step by step.
Step 1: we will go through all the possibilities with you and we will make an inventory of your requirements.
Step 2: we create a topic based on your requirements.
Step 3: we make sure we have the required material. Things such as ramps, a cherry picker, etc.
Step 4: inspecting the facade of the building. Meaning we check the facade to see if it is damaged. If needed we will do repair works.
Step 5: we will start working on your art work.
Step 6: we can treat your artwork with a special coating. This will protect de mural against vandalism and will prevent the colors from fading away by UV light.
Step 7: aftercare. If you so please we will also take care of the maintenance of the art piece.
A 160 meter long artwork
On our website, you will see more than 30 international and national projects that we have done. Both indoor and outdoor murals. A beautiful example is the graffiti mural 'Mural Foodstrip'. This is an art piece of 160 meters long and 3,25 meters high next to the Tafelbergweg in Amsterdam Southeast. With this, our artists 'Karski & Beyond' and 'Bier en Brood' (Beer & Bread) wanted to picture the diversity of the residents in the neighborhood.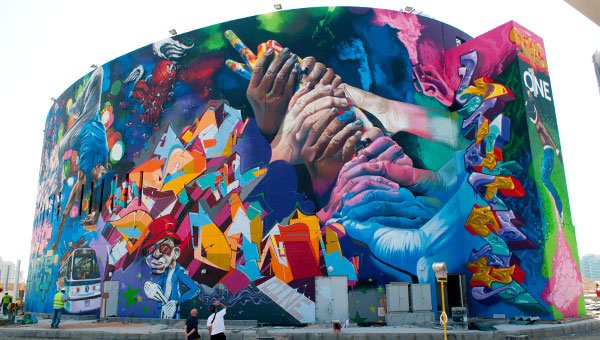 Contact us ▸
Mural Goes
We are also very proud of our projects in the Appelstraat during the event Mural Goes. Among other things, we worked on a Graffiti Mural on a block of flats. It crosses the line between Abstraction and Realism. Everyone interprets it in a different way. This is what makes it so special!
Interested?
Do our diversity and our method appeal to you? Please do contact us. We would love to make positive and colorful changes outside- and inside of your organization. Our art projects have brought smiles to many faces.